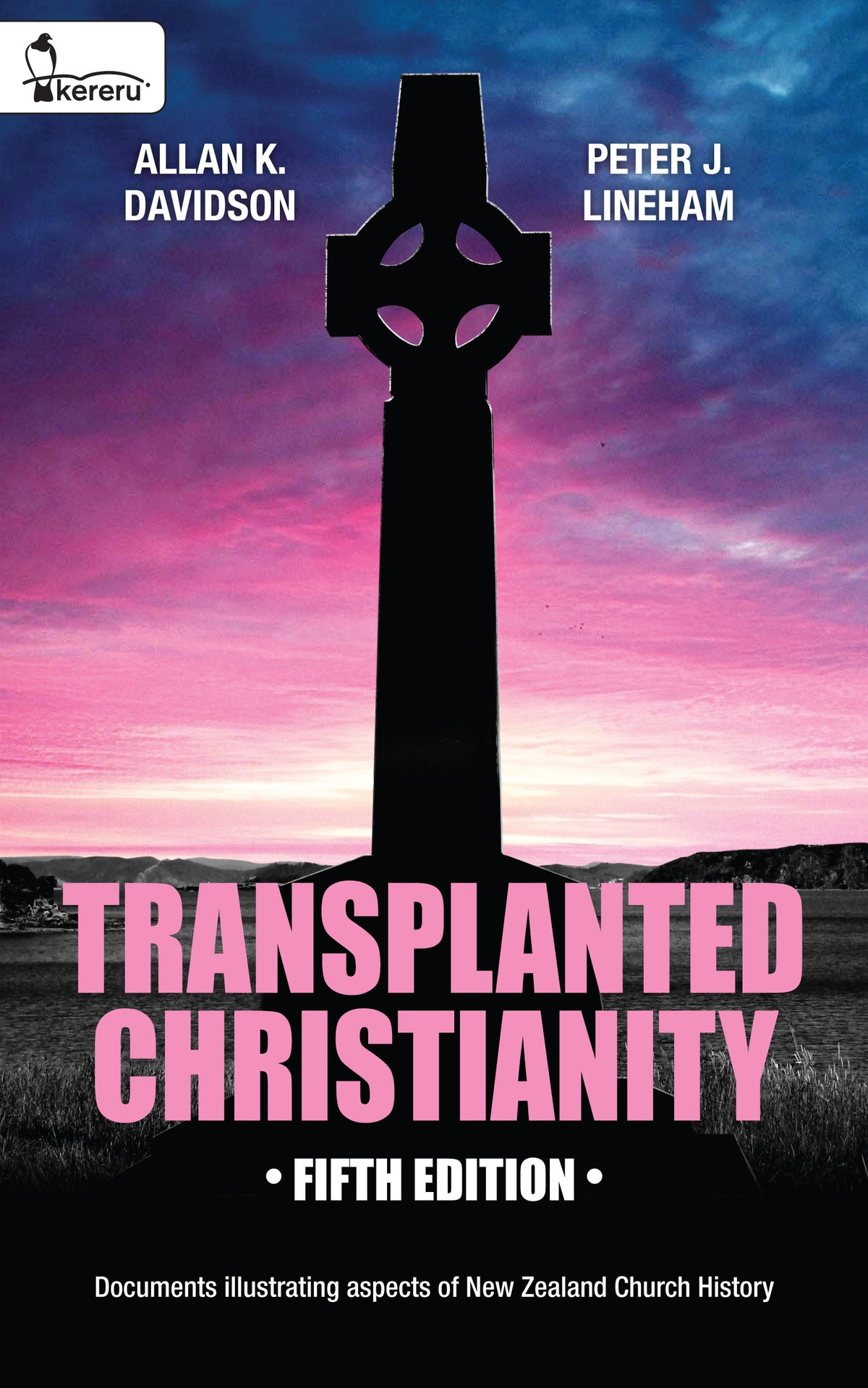 Book Description
Transplanted Christianity - Documents illustrating aspects of New Zealand Church history - Fifth Edition
Transplanted Christianity is a comprehensive collection of documents detailing the history of the church in New Zealand from its beginnings in the early nineteenth century to the present day. Informative introductions and explanations by Allan Davidson and Peter Lineham fill in the context and make this a book of interest to the serious student of church history and the casual reader alike. This fifth edition is revised and has an extensive additional chapter covering issues facing the church in the period 1980-2015. 
About the Authors
Allan Davidson taught church history at St John's College 1982-2009 and at the University of Auckland 1990-2008. He retired in 2009 but continues to be associated with both institutions as an honorary research fellow. A student at the University of Otago, first in history and then theology, he undertook postgraduate study at the University of Chicago and doctoral studies at the University of Aberdeen. Before coming to St John's College he taught at Rarongo Theological College in Papua New Guinea. Allan specialises in New Zealand and Pacific religious history and has published extensively in the area. His survey history of churches in New Zealand, Christianity in Aotearoa has been through three editions. Among his recent publications was his editing and contribution to Living Legacy: A History of the Anglican Diocese of Auckland (2010); A Controversial Churchman: Essays on George Selwyn ... and Sarah Selwyn (2011), and with others Te Rongopai 1814: Bicentenary Reflections on Christian Beginnings and Developments in Aotearoa New Zealand (2014). In 2010 Allan was appointed an Officer of the New Zealand Order of Merit for services to history.
Peter Lineham is Professor of History in the School of Humanities at Massey University's Albany campus in Auckland, having previously served as a senior lecturer at its Palmerston North campus. He gained his B. A. and M. A. in History of Canterbury, and then undertook doctoral studies at the University of Sussex. His thesis was on the English Swedenborgian movement. He has a B. D. from Otago University, and is the author of a number of books and articles on aspects of English and New Zealand religious history, including There we found Brethren (1977), No Ordinary Union (1980), Bible and Society (1996), Destiny (2013) and chapters and articles on such diverse subjects as Mormon Maori, Seventh-day Adventism, the Anglican Diocese of Auckland, Protestant sectarianism, the WCTU and evangelical trends. He is frequently used by the media as a commentator on religious trends in New Zealand.
Review
"This is an enormously valuable resource for anyone wanting to understand Christianity in Aotearoa New Zealand. Allan Davidson and Peter Lineham have compiled a broad and rich collection of primary source documents to tell the story of the Christian church in New Zealand since 1814. The documents are arranged chronologically, with very helpful introductions to explain their context and significance. This fifth edition contains a brand new chapter which traces important developments within society and the church between 1980 and 2015. I cannot recommend this book highly enough, both as a serious textbook for students of church history and theology, but also as a stimulating and informative read for church leaders, ministry workers, and anyone wanting to understand the story of Christianity in New Zealand."  Dr John Tucker, Lecturer Church History, Carey Baptist College, Auckland, New Zealand
Product Detail
Editors: Alan Davidson and Peter Lineham
Language: English
Formats: ePub or Mobi/Kindle
Word Count: 164.465
ISBN 978-0-473-32908-2 (EPUB)
ISBN 978-0-473-32909-9 (MOBI/Kindle)