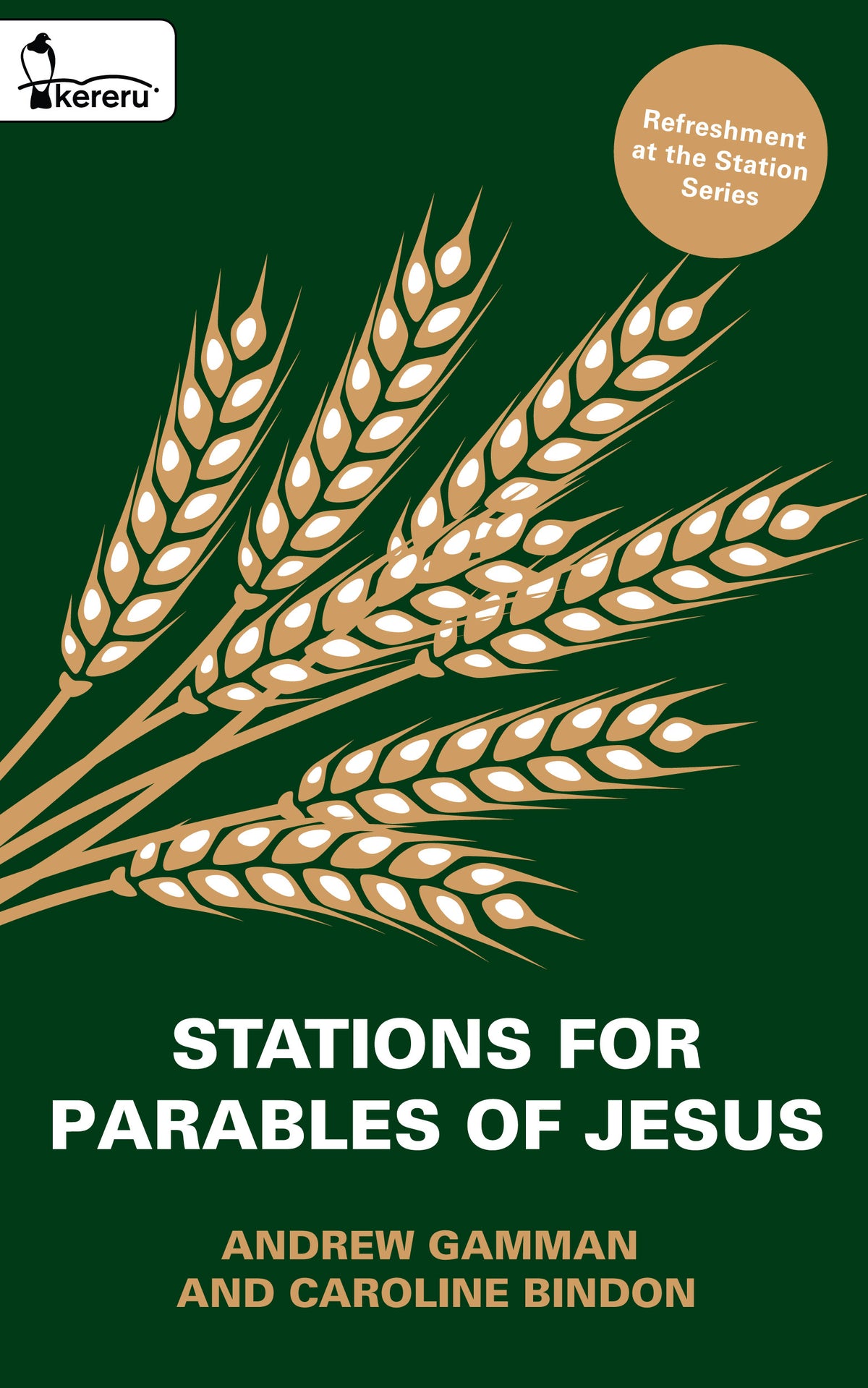 Book Description
Refreshment at the Station Book Two - Stations for Parables of Jesus
Jesus told stories to give people insight to life under God's rule. Stations for Parables of Jesus contains station ideas for every one of these parables of Jesus. The station suggestions are easy to set up. By interaction at the station people of all ages will engage with the story in a simple and poignant way as to be able to see the application to their own situations. The study of parables therefore becomes an enriching and stimulating exercise for all twenty-first century followers of Jesus. The cataloging and cross referencing in the book will enable readers to easily locate the parable they wish to use and see if it occurs in more than one gospel.
ABOUT THE AUTHORS
Husband and wife team Andrew and Caroline have years of ministry experience in creating worship experiences that are creative, interactive and thought provoking.  Using stations is a regular part of the worship experiences they create and forms an integral part of the Avenues Church which they co-pastor.  The concept of giving participants the opportunity to interact with the Christian story through stations, has provided many richly rewarding faith experiences.  With an emphasis at Avenues of being a church for all ages and stages, they have helped adults, teenagers and children alike, particpate in station worship and each develop in their own individual faith journeys.  
Product Details
Authors: Andrew Gamman and Caroline Bindon
Language: English
Formats: pdf/ePub/Mobi (for Kindle)
Word Count: 21085
ISBN 978-0-473-29098-6 (PDF)
ISBN 978-0-473-29096-2 (EPUB)
Sample Text - Stations of Parables of Jesus
Lost coin Luke 15.8-10
This is the second of three stories that Luke groups together in which Jesus told about God's concern for the lost. The first was the story of the lost sheep and, as it is also found in Matthew's gospel, it can be found in the previous chapter of this book. The third is the parable of the lost sons and is the next one listed. Luke later explains (Luke 19.10) that the purpose of Jesus coming was so that lost people could become found people.
At each station you will need:
A tray of sand with 10 small coins hidden in it.
A bag full of small coins (or plastic coins).
The following instructions printed out in large type
INSTRUCTIONS
Treasure hunt
The sand tray has 10 small coins hidden in it. See if you can find them all.
Read from the Bible
Jesus told the people another story:
What will a woman do if she has ten silver coins and loses one of them? Won't she light a lamp, sweep the floor, and look carefully until she finds it? Then she will call in her friends and neighbors and say, "Let's celebrate! I've found the coin I lost."
Jesus said, "In the same way God's angels are happy when even one person turns to him."
Luke 15.8-10 CEV
Consider
How happy are we when we find something that we had lost: the car keys, phone, wallet, purse or ring?
Jesus mission was to seek lost people.
God is delighted when we are found by him.
Prayer
Lord God,
thank you for your amazing grace
whereby you treasure me.
Thank you that you found me
and you restored me to fellowship with you.
Amen.
Take a coin
Take a coin from the bag.
Put it in your pocket or somewhere where you will find it during the week.
Every time you touch that coin this week, take it out and place it in your palm. Then reflect for a moment that you are found by God and that he is delighted that he holds you in the palm of his hand.
Before you leave the station please put it back as you found it for the next person.