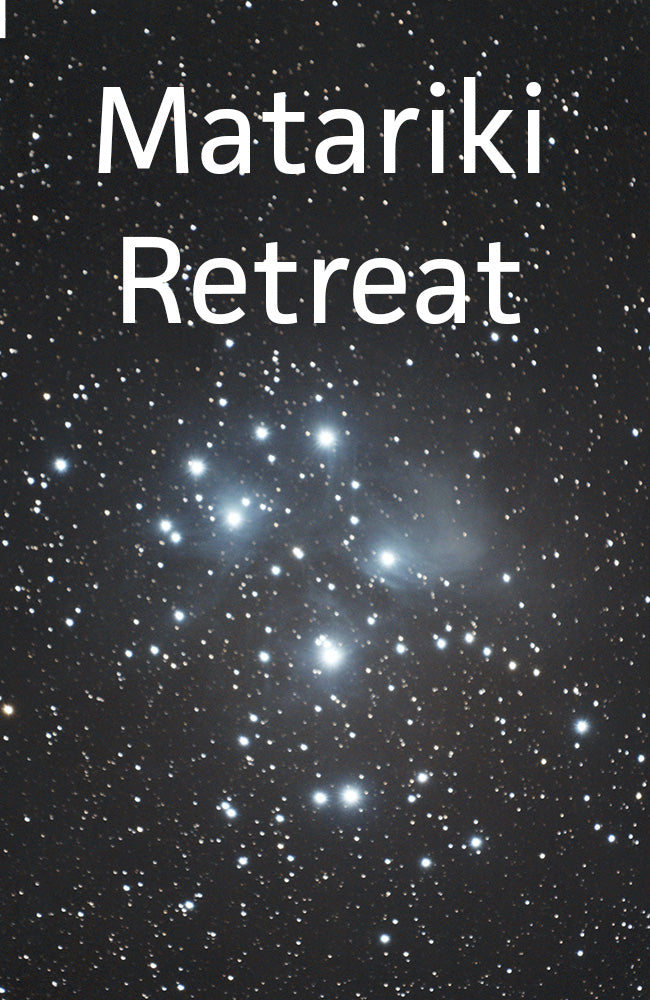 Matariki Retreat

In 2022 Aotearoa celebrated our first public holiday that recognises Te Ao Māori. This is an annual public holiday for all New Zealanders, and we are all invited into the journey of celebration.
When the star cluster of Matariki rises it is a time to gather with family and friends, to reflect on the past year, to give thanks, and to make plans for the future.  
Mātauranga Māori is at the heart of celebrations of the Matariki public holiday. Mātauranga Maori is knowledge and wisdom passed down from Māori ancestors, including a Māori world view and perspectives, as well as Māori creativity and cultural practices. 
We embrace Māori knowledge and wisdom this Matariki and in our Matariki retreat material by including and acknowledging: 
Remembrance - Honouring those we have lost since the last rising of Matariki.
Celebrating the present - Gathering together to give thanks for what we have.
Looking to the future - Looking forward to the promise of a new year.
 About this Matariki Retreat
This Matariki retreat can be used in a variety of ways. You may like to use this as a personal reflection or as a retreat experience for yourself in one sitting or spread the contents of the retreat out over the different days of Matariki. With the Matariki focus of gathering together, you may want to use one or more of the sections with a group of friends or family over the Matariki weekend. The retreat can be adapted to a more formal setting such as a church worship service or used in or a more informal worship setting outdoors or a combination of both.
Curated and written by Caroline Bindon and Rebecca Stubbing
We are not experts on Matariki. This offering borrows from the understandings and knowledge of others and draws from our own experiences of embracing Māori knowledge and wisdom in our own lives. Caroline has been creating and curating interactive and experiential worship events for over 20 years taking us to outdoor places and spaces and celebrating and honouring the creation and God at work in our ordinary lives and in our world. Rebecca (Te Rarawa, Ngāi Takoto, Ngāti Pūkeko) is part of Caroline's whānau and the Avenues congregation. She is a long-time student of Te Reo and Te Ao Māori, and has tried her best to help with reo and tikanga in preparing this resource.
Free or Koha
This retreat is offered free for download. If you'd like to support our work by offering a koha this would be very muh appreciated.
Mānawatia a MatarikiWe honour and celebrate MatarikiCaroline Bindon & Rebecca Stubbing
---